Discussion Starter
·
#1
·
I have owned bells in the past for motocross, two moto7 honda of troys.
I always liked arai but always thought they were a bit too pricey. So they were always a direct comparison when it came time to purchase a new helmet.
All I can say about this new bell star helmet is WOW.
heres the box.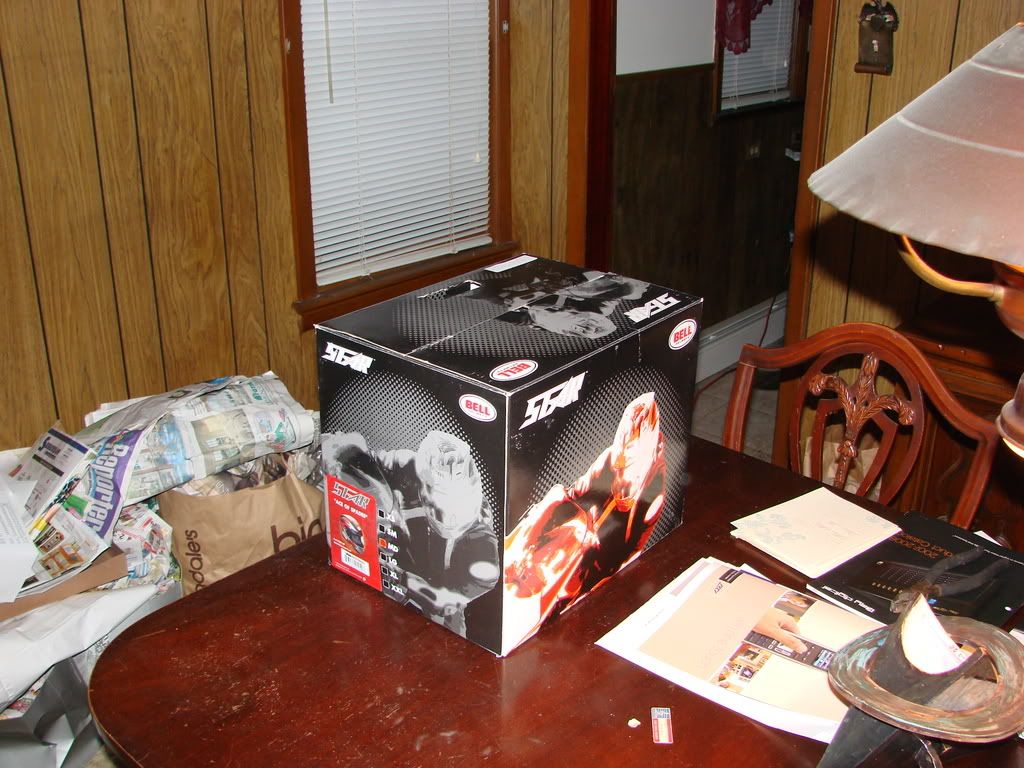 What do you know, it comes with its own high quality helmet bag with side compartment.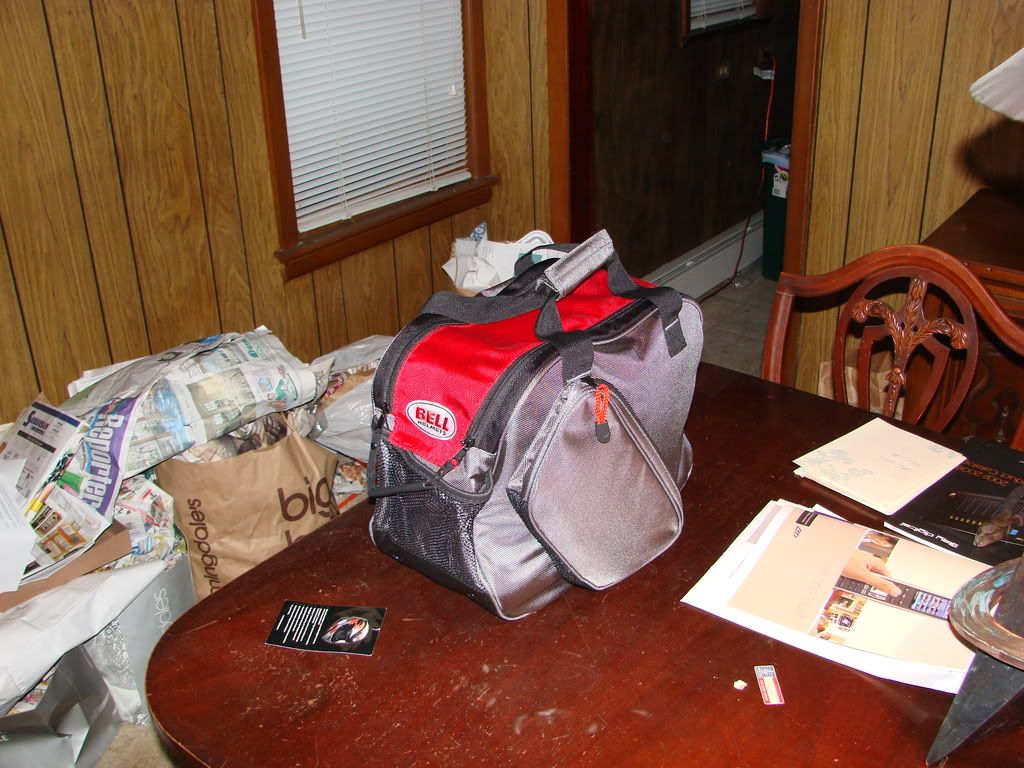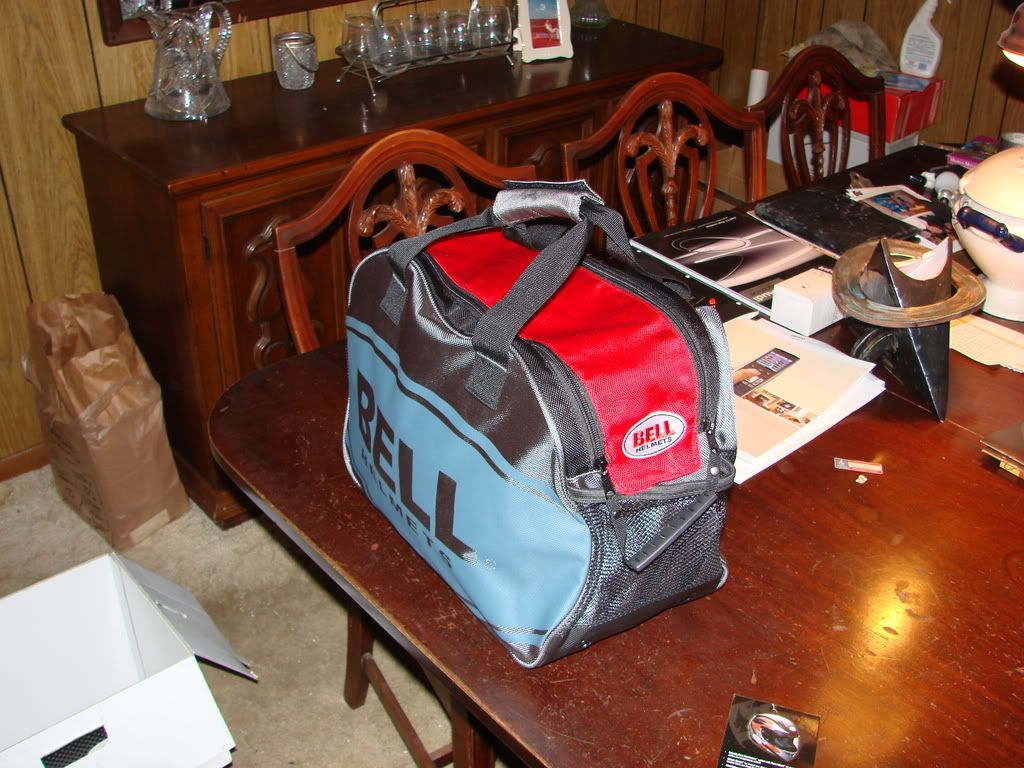 It didnt stop there, It came with a spare set of FIRM cheek pads which were abit beefier then the ones int he helmet. I switched out the cheek pads and put the thicker pads in for a nice snug fit) to my surprise it came with a track spoiler, which I thought was an option(its for speeds of higher then 130mph to keep the helmet stable). As well as a spare VISOR Bag/cover that has velcro on it and inside the bag it has velcro to attach the spare visor securely. It also came with two q tips and a small jar of silicone lubricant for the visor internals.
I really just wanted the bag, but it came with this nifty little helmet too. ;-p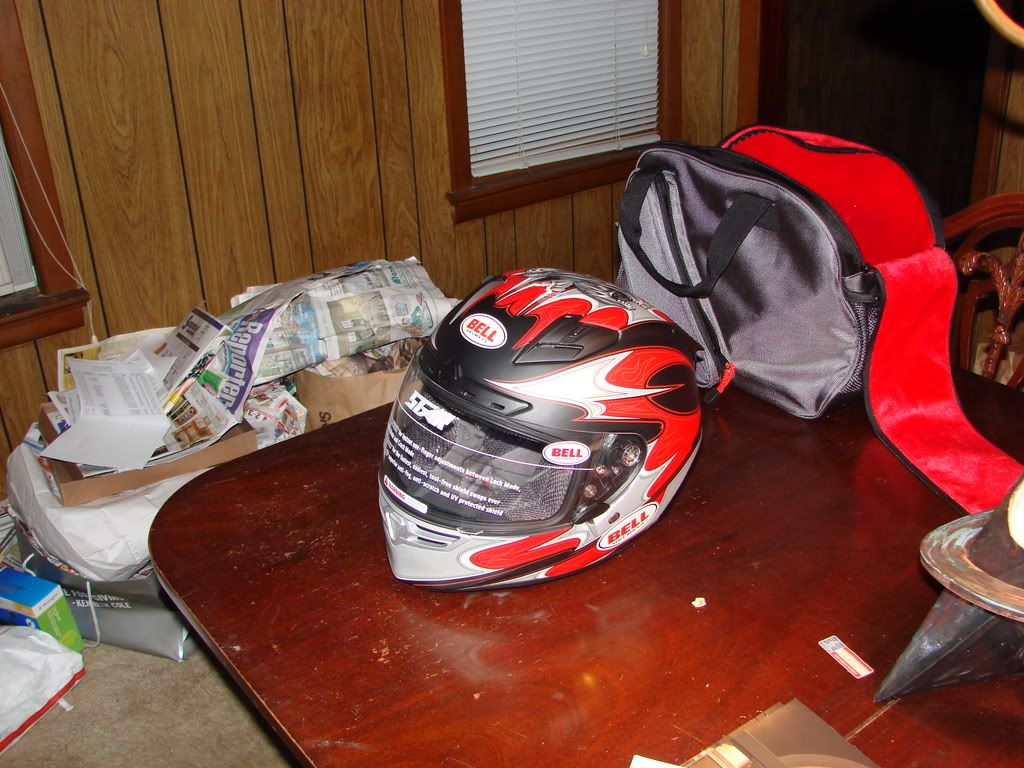 the lower vent switch has three positions, closed, lower vent opened(which goes past your lower cheeks) and lower and upper vent open(top vnt goes over the top of your cheeks) as well as an upper visor vent and two more open/close vents on the left and right top of the helmet. I dont htink being hot will be a problem at all!!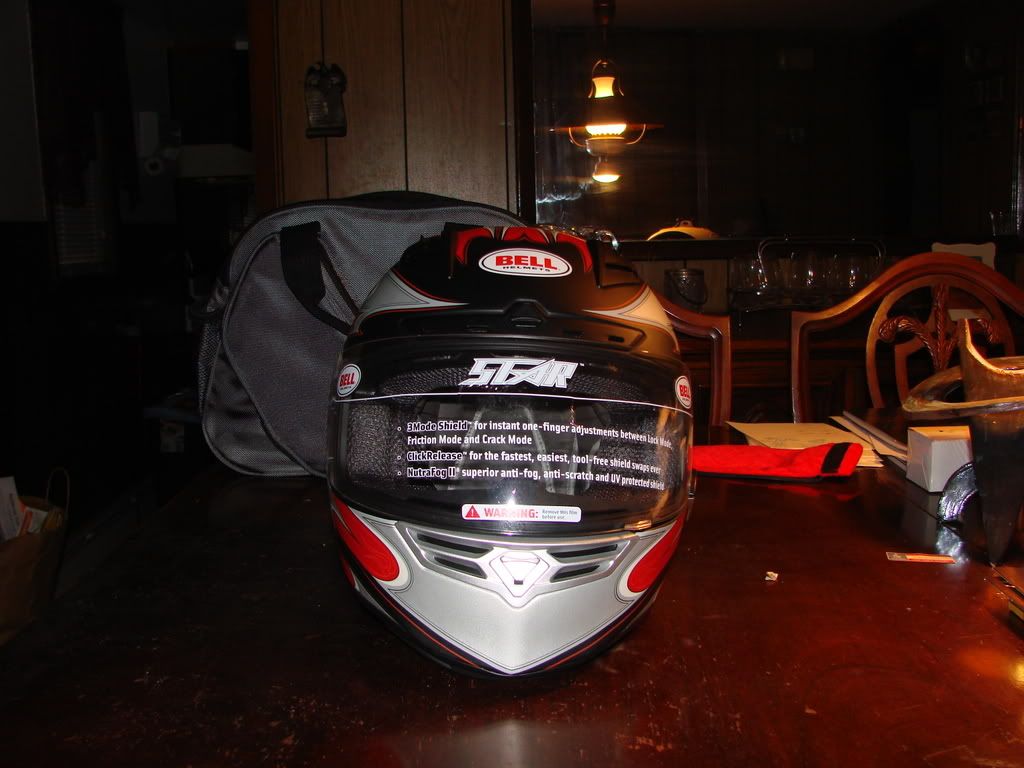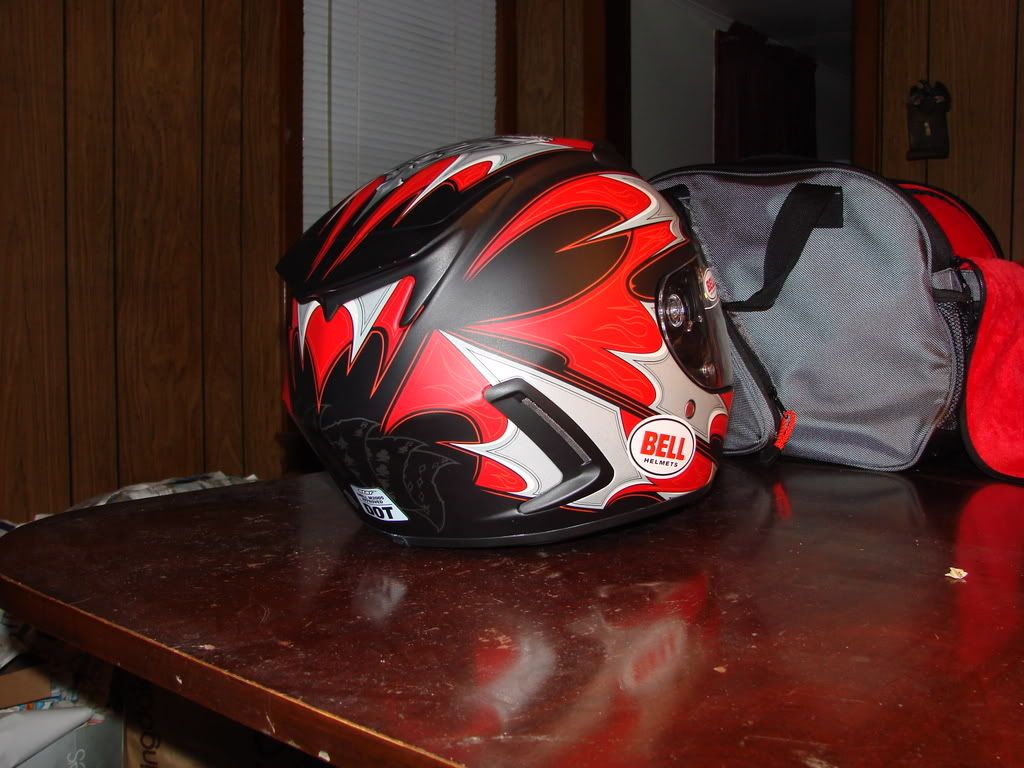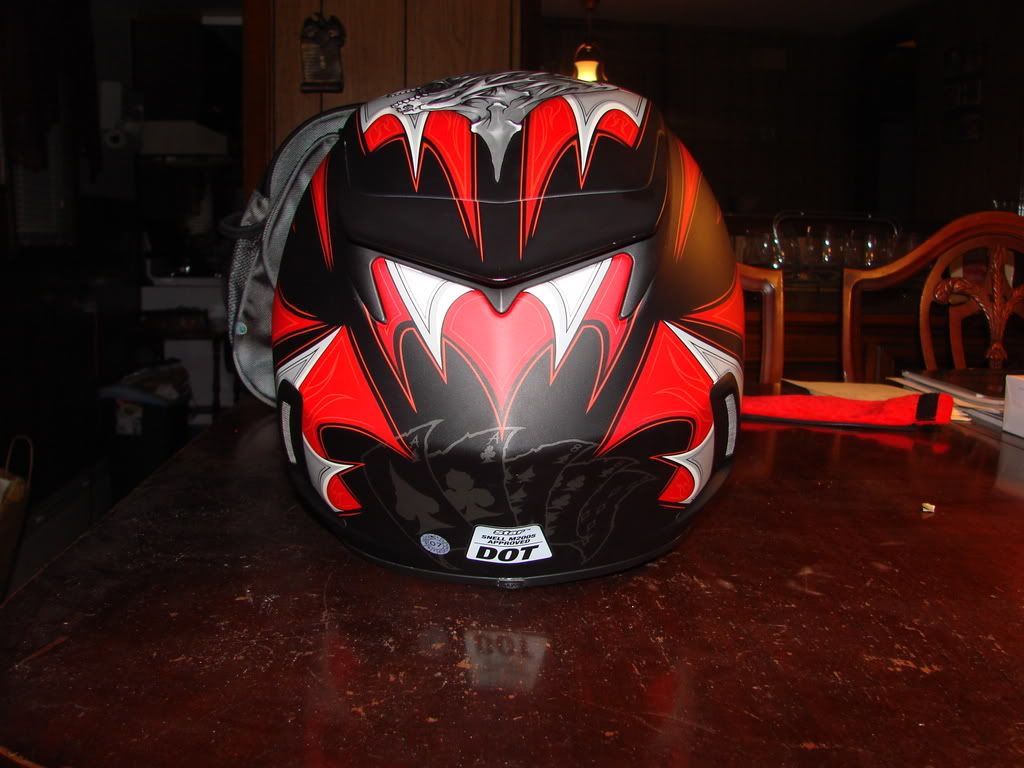 under that wing there are two vents as well, sorry i did not get pics of it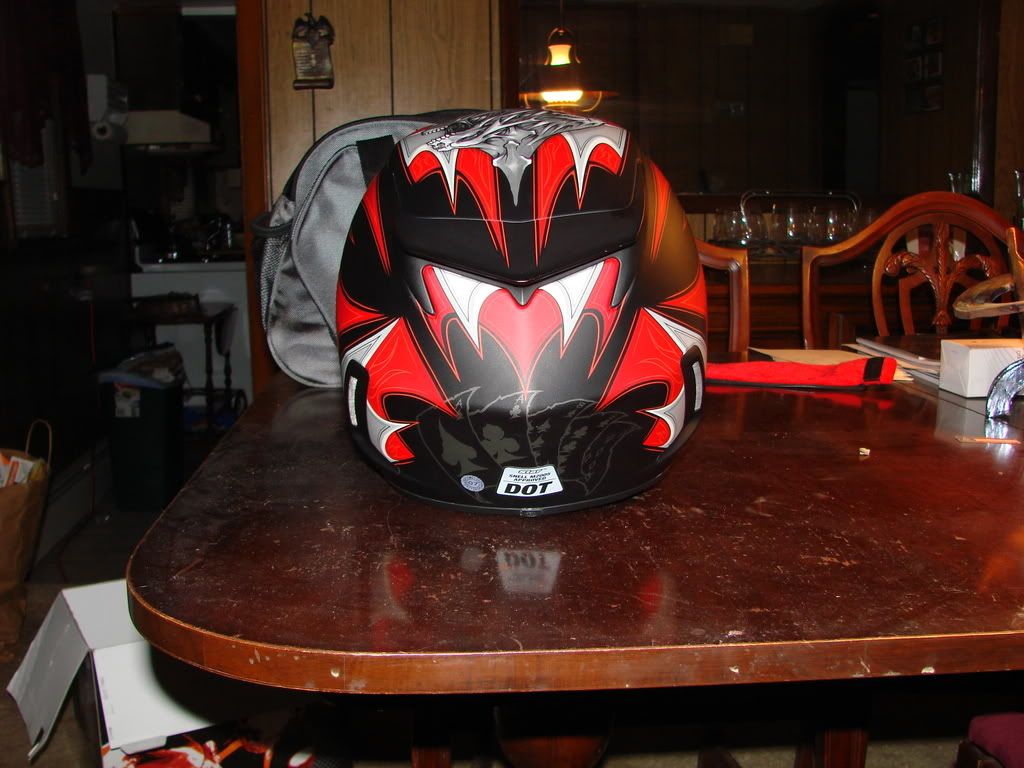 see the little black lever? well that is on both sides and allows quick release of the visor. Also the metal lever has 3 positions full lock, unlocked, cracked position one, and cracked position two. Also, all fasteners are titanium(i think the lever is titanium as well. Also, I looked in the manual and it has a special insert for communication devices on both sides for speakers/mic. NOT FOR MUSIC(unless you dont care about hearing things around you) it has a special high density surrounding area for the speaker itself and a sound deadening material in the middle to take up the space of not having a speaker in there(obviously its there until you put a speaker for communication)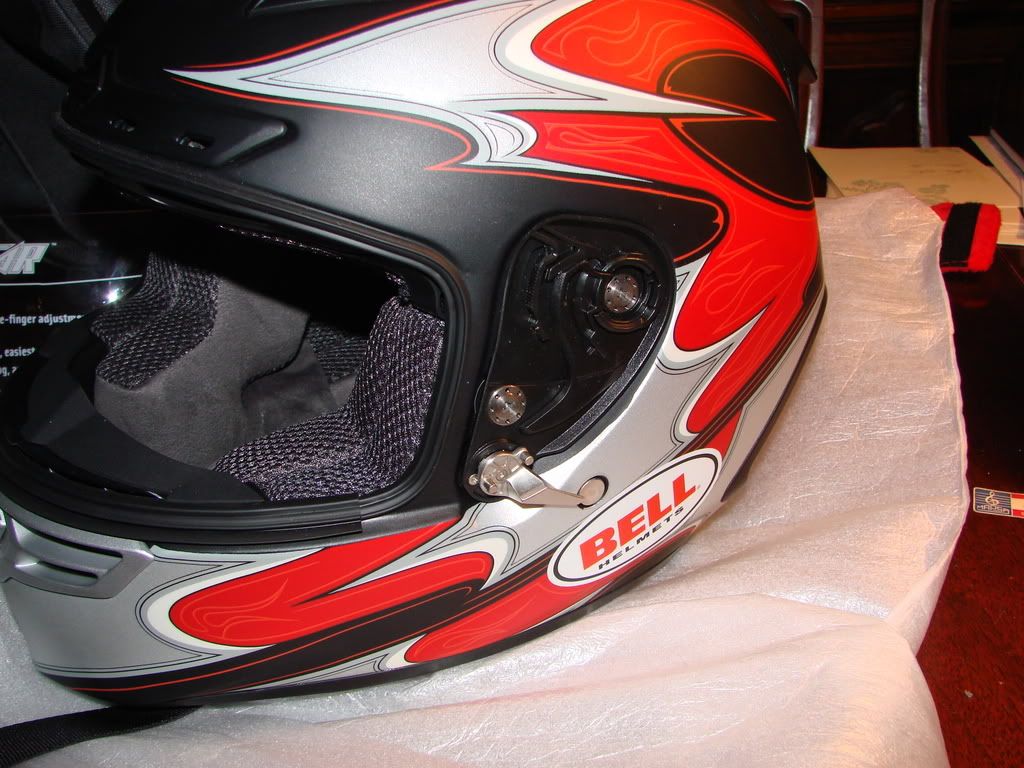 This helmet retails for $540.
I compared it directly to the new arai, i think its called the rx7? In a nutshell the bell is a tad lighter and has mroe ventilation ducts. because of that, the price and the bag and extras you get, the bell is hand down a better purchase IMHO.
It also has a special fog/breath deflector to keep fogging of there special anti fog visor to a minimum.
Obviously im pro bell, always have been, but doesnt all the extras make you think about the money your spending on your 600+ helmet?
Btw If you would like to purchase one of these helemts, please call chris in parts at kawasaki yamaha of pompton plains nj
973-831-1930 he will hook you up.
keep in mind this helemt just came out and the models availible are extremely limited. I was lucky to know the bell rep and he hooked me up with this one. the black you see in the pics is a matte black, pretty dope.